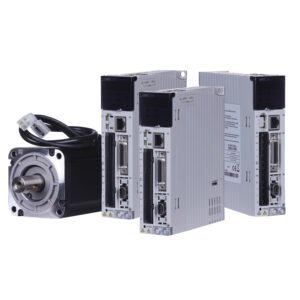 GMT, which was established to design and produce microprocessor-based industrial devices that can communicate with each other, on 30 years of industrial automation experience, continues to develop innovative solutions for the needs of machine manufacturers for total solutions.
Increasing its product range day by day, GMT instantly responds to the urgent needs of its customers with the advantage of being a domestic manufacturer. PLC, Mini PLC with Display, Operator Panels, Speed ​​Controllers, Servo Motors and Drivers, Stepper Motors and Drivers, Isolated Repeater, Power Supplies and industrial communication devices It has many types of products in stock.
The company is newly introduced to the industrial automation market and is widely used in the market. With Servo Drives with EtherCAT, testing equipment, pressing, cutting, filling, packaging, plastic, food, etc. offers solutions to machine manufacturers. "GMTCNT" servo drives mainly have the following features.
• Feedback with 20 Bit Nikon brand encoder
• Position / Speed ​​/ Torque Control Modes
• Ability to create a 32-step position table
• High speed pulse inputs, Open-Collector (500 kHz), differential mode (4 MHz)
• Pulse + Direction, CCW + CW, Phase A + Phase B (5V to 24V) pulse command types
• Ability to adjust speed and torque set values ​​with analog inputs and internal parameters
• Easily adjusting gain parameters
• 5V Internal supply output
• Easy commissioning with PC software or built-in keypad and display
• Additional RS-232 communication port for PC software
• 2MHz encoder output signal
• Position, speed, torque modes and switch between modes
• Online adjustable electronic gearbox
• Torque/Speed ​​limits
• Built-in position and homing function
• 7 PNP/NPN selectable digital inputs
• 5 digital outputs
• 2 x -10V…+10V analog inputs
• Overvoltage, undervoltage, short circuit, motor overheating, servo driver overheating protection functions
GMT continues on its way with the support of the Turkish industry, and carries its years of experience and experience forward every day, "Getting a world brand out of Turkey" continues his claim with determination.